Cambodia exported rice in the total amount of 426,073 tonnes in the 7 months' period of 2020, increased by 38.33% comparing to the same period in 2019. Comparing the growth of 7 months' export period in the last 5 years (2015-2019) to the 7 months in 2020, the growth is
un
stable, with an average of less than 1%.
(Summary Report of Rice Export July 2020)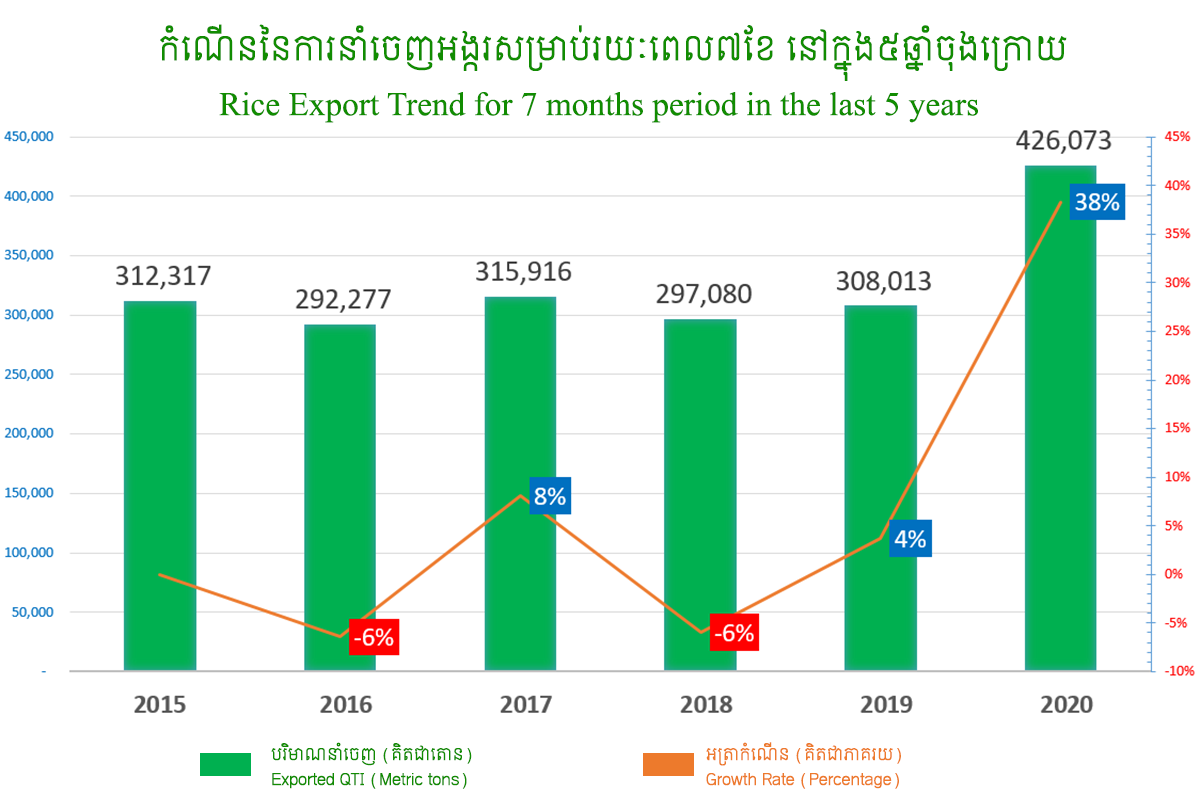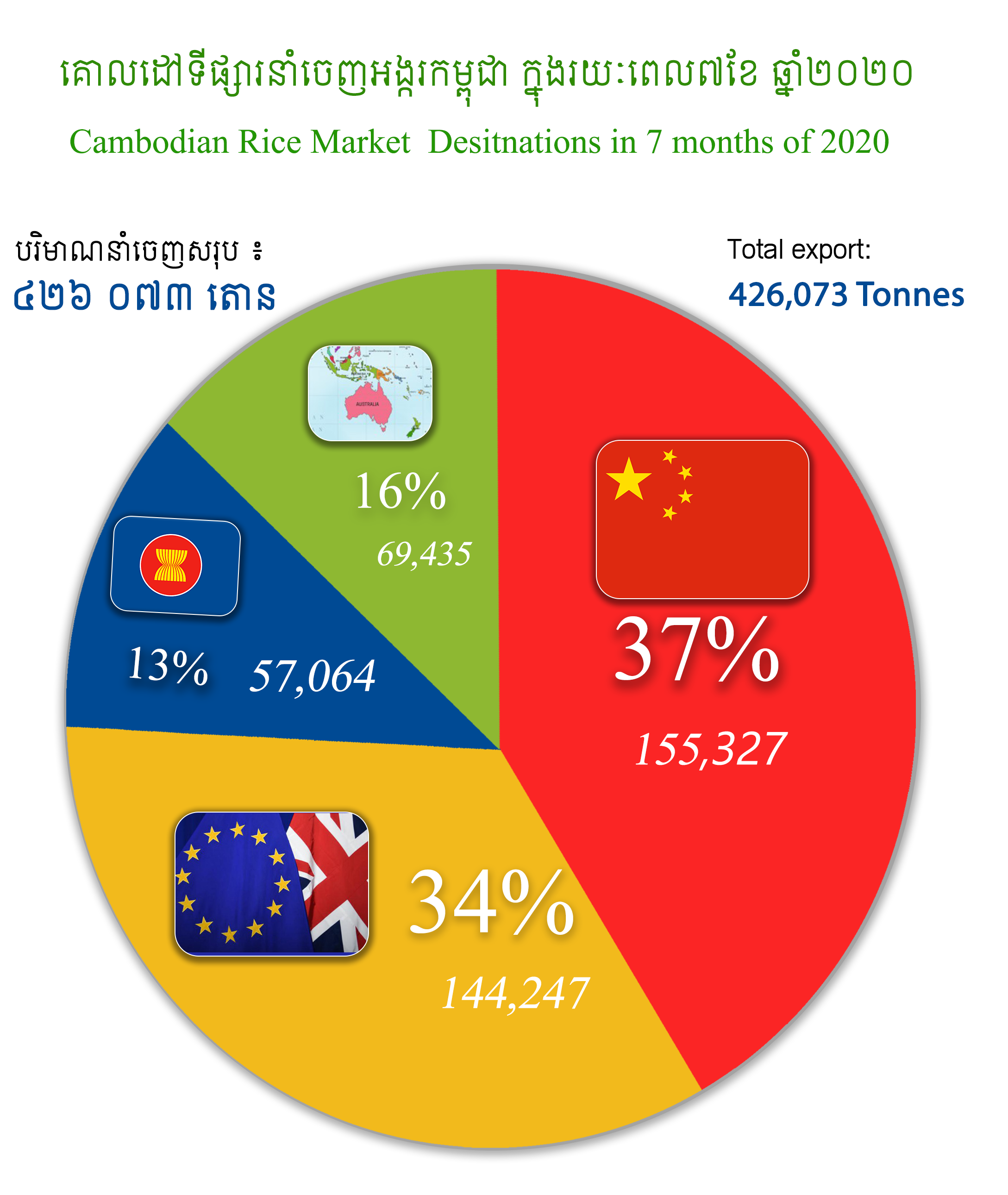 Rice Export in 7 months of 2020 is noticeably increased by some factors such as:
Food security demanded of Cambodian rice imported country during the pandemic of COVID-19

The decreased of tariff to EU from 170 Euros to 150 Euros per Metric ton

The quantity &

validity

of Cambodian rice export's Quota to China are still remaining, including the diversifying market to Hong Kong, Australia and New Zealand.

Diversifying varieties of rice from plain milled rice to

brown rice, organic rice

Maintaining market growth in some specific markets such as Malaysia, Brunei and Gabon, in which these three market account for almost 15% of Cambodia's total rice exports.



For the 7 months' period of 2020, gross income from Cambodia's rice export is USD 258.80 million.

Varieties of Rice Exported
Since 2016, we have seen a steady increase in exports of fragrant rice, while white rice and parboiled rice have been on a downward trend since 2018, with some rebounding in 2020 during COVID19, and on the other hand, organic rice, tends to grow gradually. For the seven months of 2020, fragrant rice is increased by nearly 32%, white rice increased by more than 82% and organic rice increased by more than 16% comparing to the same period in 2019.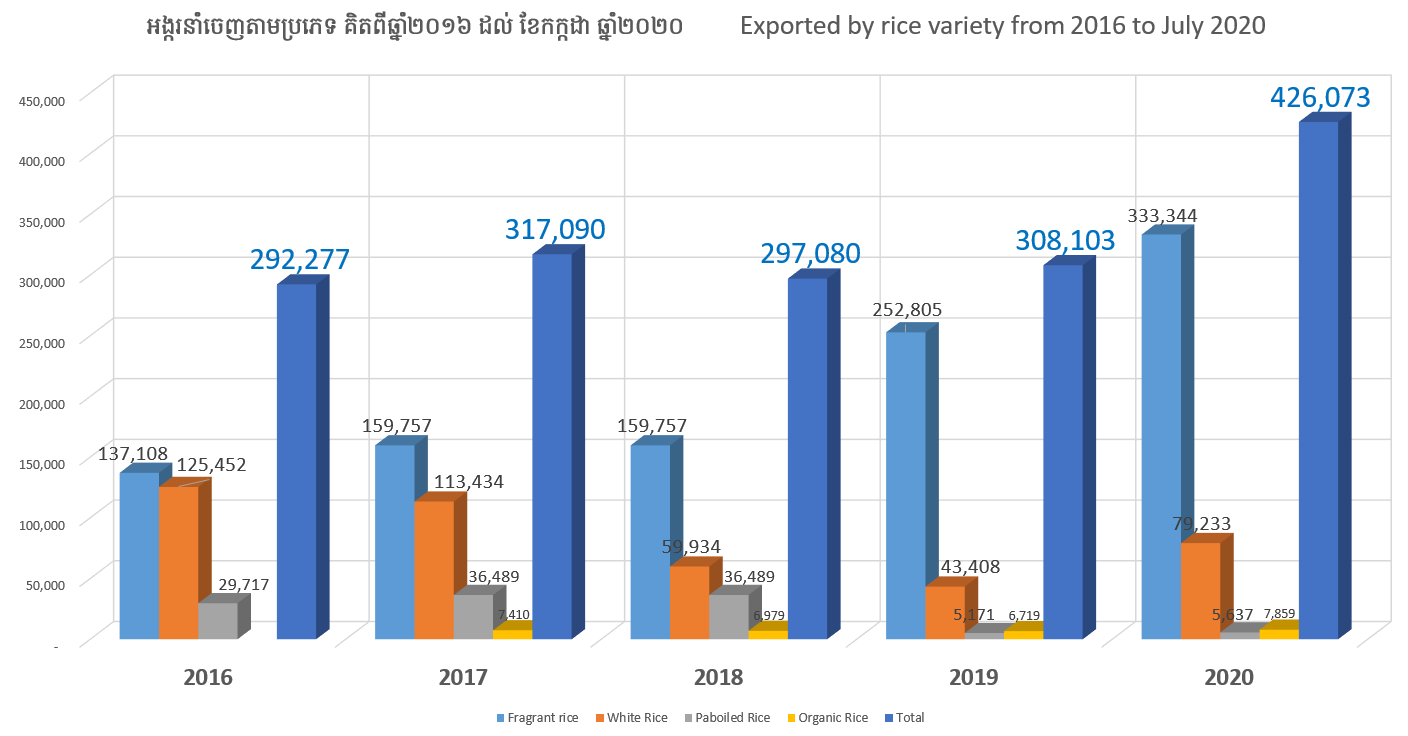 For rice exports in July, which are generally the lowest month of the year, averaged about 26,000 tonnes per month because July is the month at the end of the season of paddy rice's light stocks such as Sen Kraob, Somaly, and seasonal rice varieties such as Romduol. For July 2020, Cambodia exported 28,413 tons of rice, quite the same amount as in 2015, exported 28,492 tons, but different in July 2020, mostly export fragrant rice and organic rice, while in 2015 mostly were normal white rice
The amount of gross income from exports in July 2020 is USD 20.12 million.