Paris, France
20 October 2014

Mr. Sok Puthyvuth together with Oknha Lim Bun Heng, Oknha Hun Lak vice president of CRF, Mr. David Vann senior advisor, Mr. Lun Yeng secretary General and CRF members to attend a workshop on topic " Cambodia is a land of opportunities for investment". During the workshop, Mr. Sok Puthyvuth presented about the opportunities and potential of rice sector in Cambodia. The workshop organised by MEDEF Paris, Adepta and Cambodia France Chamber of Commerce (CFCC). The workshop chaired by H.E Sun Chanthol, Senior Minister, Minister of Commerce and participated from 60 investors, journalists and rice exporters.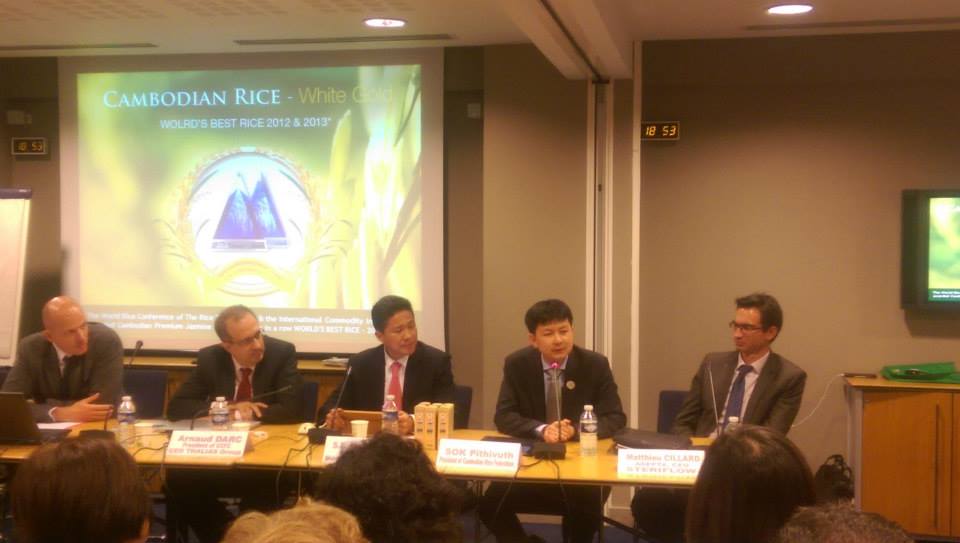 After workshop, The Cambodian delegation attended the Cambodian Rice promotion dinner at LES GRANDES TABLES DU MONDE restaurant which one of famous restaurant located in hearth of Paris. All menu cooked from Cambodian Rice by famous chefs in Paris. It is a first time for this restaurant use Cambodian Rice in their menu.
The purpose of promotion dinner want to publicise about the quality of Cambodian Rice to all chefs in Paris as well as in EU to use as part of their restaurant's menu and also the consumers in France and EU know about Quality of Cambodian Rice.
The promotion dinner organised by EURO- CHAM, CCFC and co-financed by AFD and Thalias Group.