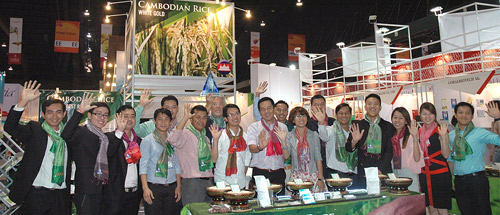 Cambodian Rice Exporters at THAIFEX WoFA 2013:
Another successful showcasing of Cambodian Rice at one of the largest international industry events
Phnom Penh, Cambodia, May 28, 2013 – A group of 17 Cambodian rice exporting companies has represented the Kingdom's emerging rice export industry at the largest Asian food trade fair in Bangkok, Thailand, between May 22 – 24, 2013. The 'THAIFEX – World of Food Asia', is organized by Koelnmesse and hosted by Thailand's Department of International Trade Promotion. Some of the companies later joined the Thailand Rice Convention in Chiang Mai, an invitation-only event gathering more than 500 buyers from all over the world.
THAIFEX – World of Food Asia is an international business platform that brings together the suppliers of a fascinating variety of food-related products and services as well as latest food innovations and technologies. World of Food Asia 2013 has brought products from over 1,300 exhibitors from 36 countries and regions. The Country pavilion from Cambodia was well received in 2012 and returned in greater strength this year.
"We are very happy. We tripled the size of our Cambodian pavilion compared to 2012. Our booth design and promotional materials were striking and attracted a lot of visitors" said Mr. David Sok from Golden Rice Cambodia, who is also the Secretary General of the Federation of Cambodian Rice Exporters (FCRE). "We went there with 17 Cambodian rice exporting companies, who represent almost 70% of the annual rice exports of 2012. We were really proud to be there, to show our high quality rice and competitive benefits along with the World's Best Rice Award 2012, which we won at the TRT World Rice Conference 2012 in Bali, Indonesia", Mr. Sok continued.
"We'd like to express our warmest thanks to the International Finance Corporation (IFC) and its donors, including the European Union (EU) and the Enhanced Integrated Framework (EIF) from the World Trade Organization, which provided technical assistance to the 17 participating Cambodian rice export companies and facilitated our participation in this event" Mr. Sok added.
"We have met with a lot of buyers. Some were new clients and some were our existing clients. This event provides us with a chance to strengthen our buyer-seller relationships. They gain more trust in us and continue to buy rice and even more from us" said Mr. Mao Kong from Loran group. "This is really beneficial. I could meet my buyers face-to-face, and discuss more openly about our business then by long distance communication. I received their personal feedback and could improve our business relationship with them" said Sreyroth Kim from Khmer Foods Group, another leading rice exporter from Cambodia who participated in this event.
Mr. Kann Kunthy from Battambang Rice Investment Co., Ltd, a newly established company, echoed the great value of this event. "I talked to a lot of visitors and buyers who were interested in our Cambodian rice. Most of them show a lot of potential, and we have promised to follow-up and explore our business opportunities further."
This is the second time for Cambodia and Cambodian Rice Exporters to present themselves in this annual World of Food Asia exhibition & trade fair. Following the great success of last year, this second-time participation provided Cambodia with an invaluable opportunity to consistently build and strengthen the image of its rice products, its growing position in international markets and building relationships with many buyers from around the world.
After THAIFEX, representatives of the Federation of Cambodian Rice Exporters joined the Thailand Rice Convention in Chiang Mai, along with a Cambodian government delegation led by His Excellency Dr. Kan Channmeta, Under Secretary of State, Cambodian Ministry of Commerce. Dr. Kan took part in a panel discussion and explained to the audience the Royal Cambodian Government Policy on rice and showed its support. "Participating in the Thailand Rice Convention allowed us to see more of the well established buyers invited by the Thai government and the atmosphere was very conducive to in-depth networking talks. An excellent chance to offer Cambodia as an alternative source for premium quality rice. We had opportunities to meet quite a few new potential buyers, for instance from China and Africa, just to mention two of the growth markets for Cambodia." David Sok from Golden Rice Cambodia commented. "We also got to meet and strengthen our warm relations with Ms. Korbsook Iamsuri, the President of the Thai Rice Exporters Association".
This consistent presence in global trade fairs and events will help the Kingdom boost its rice exports by promoting Cambodian rice in world markets, encouraging international buyers and traders to buying more rice from Cambodia, and thus to contribute to accomplishing the Cambodian Government's objective to export 1 million tons of milled rice by 2015.
For more information about THAIFEX – World of Food Asia, please visit: www.worldoffoodasia.com.
For more information about The Thai Rice Convention, please visit: http://thailandriceconvention.com/
For more information about the Federation of Cambodian Rice Exporters, please visit: www.fedocrex.com.
Press Contact: Mr David Sok, Federation of Cambodian Rice Exporters (FCRE)
Phone number: + 855 12 770 350
E-mail: david.sok@fedocrex.com