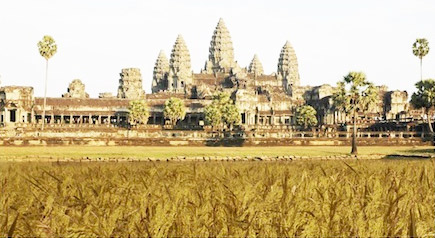 Cambodian Rice ​​is of the Indica type and comes in forms of white rice and fragrant rice with various grain lengths, degrees of translucence or chalkiness, whole kernels and various degrees of broken.
Crop scientists estimate that over 3,000 varieties of rice are cultivated in Cambodia (USDA, 2010). This portfolio concentrates on varieties with high international reputation for quality and showing best export performance.
Cambodia offers the following types of milled rice and rice products:
'Premium Fragrant' or 'Cambodian Jasmine Rice' | 'Fragrant' | 'Long grain white' or 'Premium White' | 'White' | 'Brown'/'Cargo Rice' (fragrant) | 'Parboiled rice' factories are just coming online.
For more detailed information, please see the recently promulgated 'Cambodian Milled Rice Standards'.
Classification
International Name
Cambodian Name
Features/Benefits

Premium Fragrant
Wet season

Phka Malis
Phka Rumduol
Extra long grain, soft texture, tender, very pleasant and distinct aromatic flavour, these qualities are enhanced after cooking;highest value; best selling Cambodian Fragrant Rice.
Other types/names: Phka Rumdeng, Phka Romeat, Somaly (brown), NeangMalisTM,
Fragrant


Dry season

Sen Kra Ob
Sen Pidao
Dry-season fragrant rice with similar features as the 'Premium Fragrant' such as long grain, tenderness and aromatic flavour
Premium White
Wet season

Phka Knhey
Phka Chansensar
Medium grain, non-fragrant superior white rice with a distinct scent and similar tenderness and pleasant taste after cooking as fragrant rice; rice kernel with a translucent endosperm. [absorbing relatively more water Ginger Rice produces a high volume of cooked rice and is a favourite in restaurants.]
Phka Chansensar: long grain variety
White
Wet season
NeangKhon
RengChey
PonlaPdao
Neang Minh
Medium grain, non-fragrant, superior white rice of similar qualities as Ginger Rice.
White
Dry season
IR varieties
Medium to long grain white rice of firm consistence after cooking. Rice kernel with white endosperm.
Classification
Type
Designation
Features/Benefits
Brown Rice
'brown rice' or 'cargo rice'
De-husked but still with bran, contains more nutrients with health benefits (Vitamin B1, B2, B3, B6, Vitamin E, fiber, antioxidants etc.); has after cooking slightly chewy texture and nutty flavour;
preferred by some customer groups; restaurants offer it in speciality dishes.
Broken Rice Premium Fragrant
Wet season
100% broken A1 Super and A1 Extra Super
At first glance, a by-product of rice milling and sorting by percentage of broken grains. However, it's also a specialty, high in demand in several countries/cultures, where important for their dishes
Broken White
100% broken A1 Super and A1 Extra Super
Different types of broken white ricehave individual value forparticular kinds of consumption (matching dishes/recipes) or for processing (food products, beverages, animal feed). Broken rice has a low fibre texture and low nutrient level, while retaining its high-energy content.