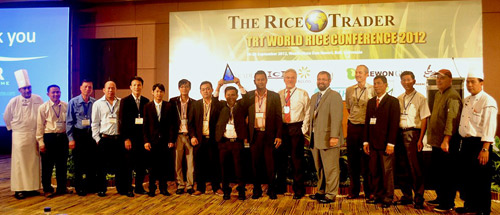 Cambodian rice wins the '2012 World's Best Rice' Award in Indonesia
Phnom Penh, Cambodia, October 1, 2012 – Cambodian premier Jasmine rice won the 'World's Best Rice' Award at the global rice tasting competition during the World Rice Conference (WRC) organized by The Rice Trader (TRT) in Bali, Indonesia, from September 26-28, 2012.
The TRT's World Rice Conference is the annual gathering of rice industry professionals, with a conference agenda that aimed to map the future direction for rice markets, and how price trends will be shaped. TRT WRC 2012 was the largest gathering of rice professionals in the region, attracting over 400 delegates from all over the world and featuring expert speakers who guided delegates towards a vision of markets in 2012/13 and beyond. A delegation representing 12 Cambodian Rice Exporters participated in the conference.
"Several leading rice producing countries participated in this international Rice Tasting Competition. A panel of rice experts and culinary chefs from 5-star hotels in Bali blind tasted the different samples and selected the Cambodian sample as the best one" said Mr. David Sok from Golden Rice Cambodia, one of the country's leading rice millers and exporters. "Based on our discussions among participating companies before we left for Bali, we decided to select three Cambodian rice samples to be submitted for the TRT competition: two were premier fragrant rice samples and one was premier white rice. The sample that received the award was one of the two premier fragrant rice samples: our Cambodian Jasmine Rice, Grade A, 100% Unbroken".
"We would like to express our warmest thanks to the International Finance Corporation (IFC) which provided technical advice to the 12 participating Cambodian rice export companies and facilitated our TRT participation" Mr. Sok added "and this award is showing the world that Cambodia has great quality rice and can compete with other major rice market players."
"All participating Cambodian rice exporters were very happy and proud when the TRT expert panel announced that Cambodian rice won the 'World Best Rice Award' this year" said Mr. Chan Pich from Signatures of Asia, another participating rice export company. "I think it is a great success for the Cambodian rice industry and for Cambodia as a whole".
During the annual World Rice Conference, TRT organizes this rice tasting competition, with submissions from different rice producing countries. In 2010, Thai rice won the award and in 2011, a rice sample submitted by Myanmar won the global award. It is believed that this world recognition of Cambodian rice will help the Kingdom boost its rice exports by promoting Cambodian rice in world markets, encouraging international buyers and traders to consider buying more rice from Cambodia, and contribute to the accomplishment of the Cambodian Government's objective to export 1 million tons of rice by 2015.
Source: http://www.worldsbestrice2012.com/TRTWRC12.html