Cambodia export rice in the total amount of more than 300,000 tonnes for the 4 months of 2020, generating as 48% of the total export amount in 2019. For this first 4 months of 2020, Cambodia export rice in the amount of 300,252 tonnes, increased by 41% comparing to the same period in 2019, which export only 213,763 tonnes. This is considered as the most significant growth of Cambodia, which achieved the highest a amount for the first four months in the last 10 years history. Despite the government consideration in food security for Cambodian people by banning the "White Rice" export at the mean time from the early April 2020, the fragrant rice is still exported in the total amount of more than 69,000 tonnes; providing the high price for rice merchant and businesses in rice sector.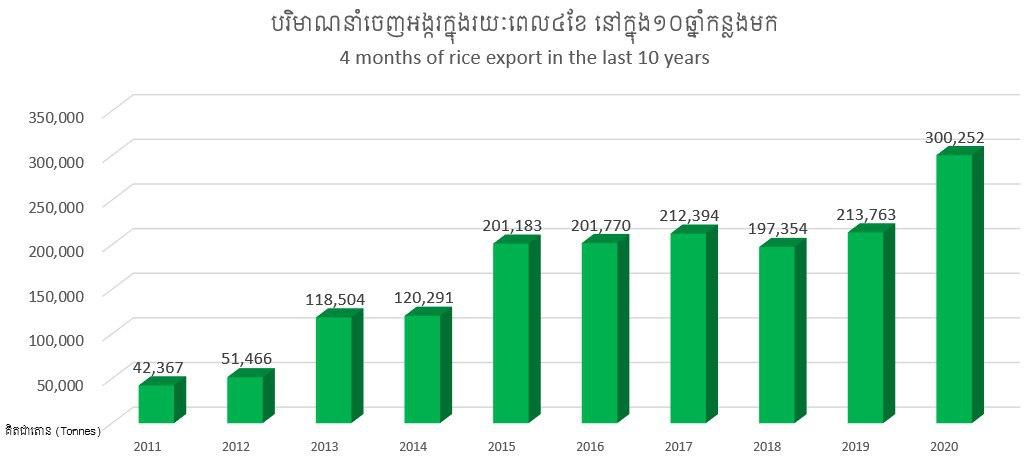 In April 2020, Cambodia export rice to the market destinations such as 39% to European Union (EU), 30% to China, more than 13% to ASEAN countries, especially Malaysia and Brunei, and 18% to other destinations such as Australia and New Zealand that are noticeably increase. The Overall export of April 2020 is increased by 61% comparing to April 2019.
Moreover, in the first 4 months of 2020, Cambodia export rice to China in the amount of 122,094 tonnes (41%), to EU and British 97,337 tonnes (32%), to ASEAN countries 37,428 tonnes (13%), and other destinations 43,393 tonnes (14%).
In term of percentage increasing of each market destinations, Australia, New Zealand, and Gabon have highly increased up to 79%, EU up to 49%, ASEAN countries up to 29%, China up to 28%, and for the overall is 40% increase comparing to 2019.